HOT TUB FILTER CARE
The cartridge filters in your hot tub are a key part of the hot tub's sanitizing process.  Taking good care of your filters will lead to happy hot tub water!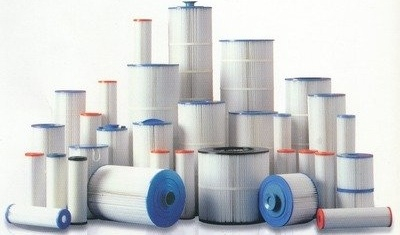 WHAT DOES THE FILTER DO?
A cartridge filter "catches" foreign materials (some visible like small leaves, others too small for the naked eye) that are in your hot tub water and get sucked into the filter bucket.  The filters catch these materials before they pass through your plumbing and return into the water.  Instead, the filters catch and hold that material.
HOW DO I CLEAN MY FILTERS?
Just because your filter catches these foreign materials, doesn't mean they just evaporate into thin air (or water).  They're stuck in the filter and need to be removed.
For a quick clean, remove the filters and spray off for a couple minutes using a high pressure nozzle attached to your garden hose.  Don't use a commercial grade power sprayer or compressed air nozzle.
For a deep soak, pick up a bottle of Leisure Time's Filter Clean product, remove the filters, pour the correct amount of Filter Clean in a 5 gallon bucket, and soak the filter for 3-5 hours.  After that period of time, spray off the filter to remove the Filter Clean and reinsert into your hot tub.
When you do a quick spray cleaning, you should not need to turn the power off if your water is free of debris.  If you're going to do a 3-5 hour soak, you should shut off the power at your GFCI breaker.
WHAT IF I HAVE A MICRO-FILTER?
If you have a micro-filter, you should NOT soak the filter in anything other than water.
HOW OFTEN SHOULD I CLEAN THE FILTERS
We recommend the quick spray clean every month, and the deep soak (again, for standard cartridge filters only, not for micro-filters) every quarter.
HOW LONG SHOULD MY FILTER LAST
With proper care, a standard cartridge filter can last 12-14 months.  A micro filter should last 3-4 months.
Questions? Contact us:
Error: Contact form not found.
Follow us on Social Media: