FEATURES
Size: 91″ x 91″ x 42″ | 231 x 231 x 96 cm
7 seats
65 jets
Capacity: 505 gal | 1,911 L
Dry Weight: 1050 lbs | 476 kg
Pumps: (5) 3.0 BHP 1-Spd
Pumps are rated at Brake Horse Power (BHP). BHP is a maximum value measured by the motor manufacturer with no load applied. Dry weight is shipping weight, including package and wooden runners. Dimensions, capacities and weights are approximate. Specifications are subject to change without notice. Spa images have been digitally rendered and may or may not show optional features.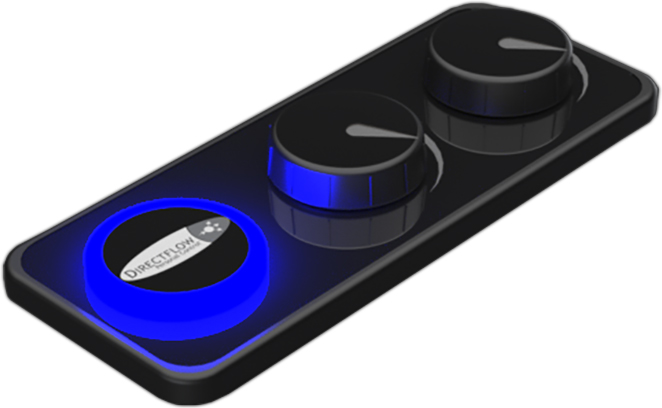 The innovative patented DIRECTFLOW Personal Control®Switchless Motor and Direct Plumbing System combined with the VARIABLE FLOW CONTROL (VFC) provides each user the ultimate individual control and hydrotherapy experience.
AIR CONTROL – Air pressure adjustment
PUMP SWITCH – Turn individual seat pump on/off
Variable Flow Control – High or low jet pressure
STANDARD FEATURES
• Warranty:
– Lifetime Structure
– 7-Year Surface
– 5-Year Parts, Labor, Plumbing and Electrical
– 3-Year on Morbern Cover Upholstery
– 2-Year on Monarch Cabinets
• Satin SS Helix and Hydro Extreme Jet Design
• Satin Trimmed Accent Package:
Passivated Satin Stainless Steel Jets, Weir Gate and LED Lighting
Anodized Control Bezels, Waterfall Covers and Cabinet Trim
• Morbern 5 in. Maximum Tapered ASTM Cover
• Full Foam with PermaBase ABS Pan
• WhisperPure™ Circulation System with Microfilter
• Monarch Cabinet
• DynaBrite LED:
(1) 5 in. LED Light, (7) 2 in. LED Lights, (4) Cabinet Corner Lights (N/A with Rock Cabinetry), Cup Holders,
Pillows and Waterfall (Pelican Bay, Piper Glen, Dove Canyon)
(1) 5 in. LED Light, (6) 2 in. LED Lights, (4) Cabinet Corner Lights (N/A with Rock Cabinetry), Cup Holders,
Pillows and Waterfall (Quail Ridge)
• DirectFlow® Personal Control
• Advanced Digital Touch Control System:
Color LCD Panel, WiFi Ready (Module Required), Multi-language Interface
• Titanium Heater: 5.5 kW North America (60 Hz), 3.0 kW Export (50 Hz)
• Crystal AOP™ Brilliance: (FROG®@ease™ with SmartChlor™* & Crystal AOP™)
• 9 in. Waterfall: (2) Pelican Bay, (1) Piper Glen, Dove Canyon, Quail Ridge
OPTIONAL FEATURES
• Stereo System:
1) Premium Infinity® Sound System by Harman:
Bluetooth Receiver, AM/FM, USB, Aux-in
(2) Pop-up Speakers, (2) 6.5 in. Exterior Speakers, Power Subwoofer
2) bba2™ Audio
Fully Integrated Bluetooth Audio Streaming
(2) Pop-up Speakers, Subwoofer
• Diamond AOP™
• Nature2® Cartridge
• Pump/Heater Valves
• Worldwide WiFi App Module
Download app for smart device to control hot tub wirelessly
• ProGuard 6 in. Maximum Tapered ASTM Cover
• Rock Cabinetry
* Where allowed by law
Individual DirectFlow™ Control Manages Hydrotherapy at Each Seat
• One Pump Per Seat | Increases efficiency by supplying optimum power and maximum reliability.
• One Control Per Seat | Each spa seat occupant has their own individual control.
• Direct Water Flow | Water flows directly from the pumps to the jets with no diverters, valves or elbows resulting in maximum output with minimum resistance.
Variable Flow Control – Per Seat
• Rotate to High or Low | Rotate to "HI" for a full force massage or to "LO" for a more relaxed massage.
• Full Range | Turn the VFC to any massage power, air pressure and water flow desired, in-between low and high.
• Energy Efficient | When the VFC is turned to low the pumps are using 40% less power consumption than a traditional spa with diverters.
More Power to Control Energy Efficiency – Individual Seat Pumps
The power of massage can be individually regulated by the sophisticated Platinum Elite design and engineering of individual seat pumps, direct plumbing and separate control pads – easily and economically.
No other spa can give you the DIRECTFLOW™ personal control!
EASY FINANCING AVAILABLE!