Enjoy The Health Benefits Of Heat Therapy!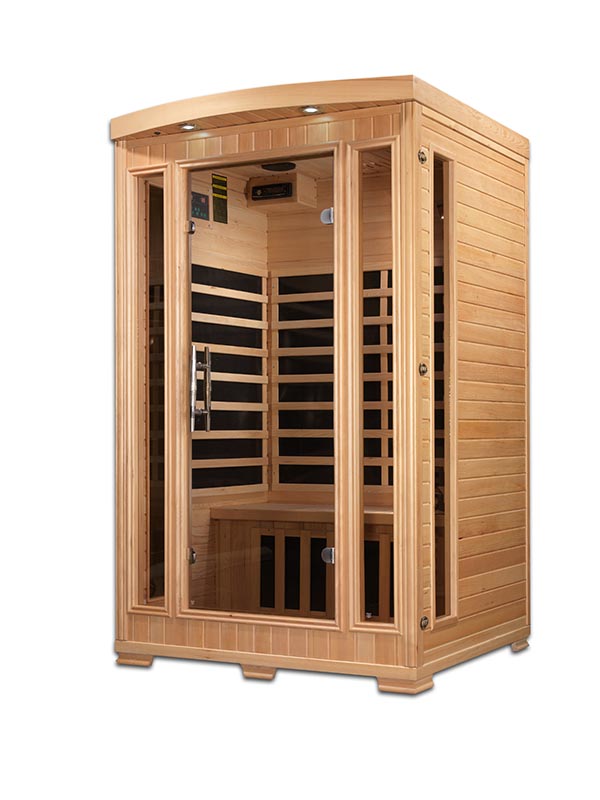 2 Person capacity
Exterior dimensions (WDH): 47″ x 43″ x 78″ (roof overhang: add 2″)
Interior dimensions (WDH): 43″ x 39″ x 70″
FM CD Player with Bluetooth and MP3 auxiliary connection
2 Built in speakers
Interior and exterior LED control panel
Natural hemlock wood construction
Electrical service: 120V/15amp
Clasp together assembly
6 Carbon Low EMF FAR Infrared heating elements
Bronze Privacy Tempered glass and glass door
Interior reading/chromotherapy lighting system
Roof vent
Sauna weight: 325 lbs.
Shipping weight: 350 lbs.
Ships in 2 box
P6-H206-01
Pro 6 Low EMF FAR Infrared Saunas are constructed with the environment in mind, which accounts for our efforts in using Reforested Canadian Hemlock wood. Our sauna walls are double paneled constructed with the thickest interior and exterior wood planks compared to others in the same industry. The walls planks on Pro 6 Saunas measure more than 6mm on each side while our competitor's average 3.5mm or less. The inner frames on Pro 6 Saunas measure more than .85 inches in thickness versus less than .45 inches for other manufacturers. This all translates to a quality sauna that retains heat more efficiently, heats up faster and consumes less energy.
The Pro 6, 2 Person sauna model offers 6 Low EMF FAR infrared Carbon Energy Efficient heating panels (including an industry leading foot heater) that produce a wider, softer heat that is evenly distributed throughout the sauna. Our Low EMF FAR infrared carbon energy-efficient heating panel heaters are 30% larger than saunas heated by ceramic tubes, and penetrate the skin 40% more to maximize therapeutic benefits. Unlike ceramic heaters, you will never have to replace our Carbon Energy Efficient heating panels. Pro 6 Low EMF FAR infrared Saunas Carbon Energy Efficient panels also heats up 30% faster than saunas equipped with ceramic panels, and 100% faster than rock and water steam saunas.
Unlike traditional rock and water saunas (which heat at or over 200 degrees and do not penetrate your skin), Pro 6 Saunas operate at a much lower and safer 130 degrees Fahrenheit. In fact, Pro 6 Saunas operate most effectively at 120 degrees Fahrenheit, thus allowing you to enjoy the sauna longer and maximize potential health benefits.
The Pro 6 Low EMF FAR Infrared 2 person sauna is designed for ease of use and is an outstanding value. Assembly is a snap and takes less than one hour. Enjoy the convenience of operating a Pro 6 Sauna with our dual (interior and exterior) soft-touch control panel and LED display, featuring sauna temperature and time functions. Play your favorite music through the saunas built-in FM CD Radio with Bluetooth and MP3 auxiliary connection and built-in speakers. The sauna plugs into any dedicated 15 amp 110 volt outlet, so no special wiring is required and the sauna may be installed on carpet or any indoor location including the basement, garage, master bath or walk in closet.
Pro 6 saunas would be a beautiful and worthwhile addition to any fitness room and could be incorporated as a part of your fitness routine. See and feel the difference today!