Ceramic Grills
The Grill Dome
The Grill Dome is the premier and most versatile all-in­‐one Grill/Roaster/Smoker/Oven on the market today! Manufactured in the U.S.A. for over 25 years, the Grill Dome comes in your choice of colors; pre­‐assembled and ready to cook the minute you find the perfect spot.
In addition to the versatility of the Grill Dome and the color variety, there are a number of options for tables and stands to suit any space and style preference.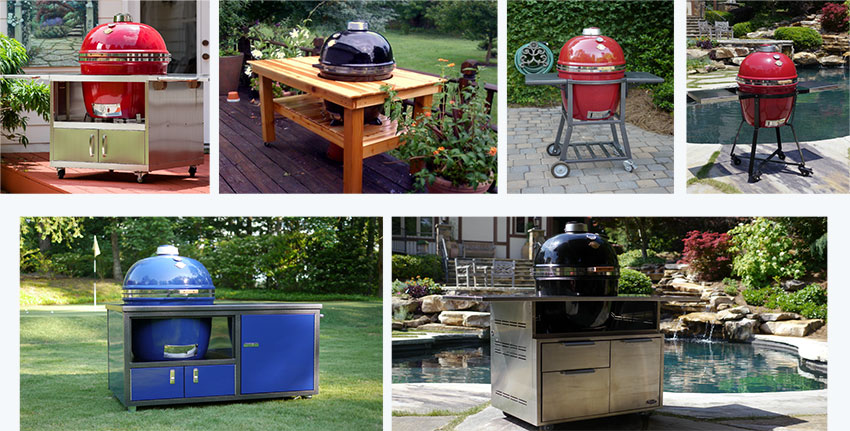 Color
Variety
All 3 sizes (XL, Large, Small) come in 5 stock colors with endless color combinations that will match your backyard and patio design. Choose from a full body color or mix and match the top and bottom.
Stock Colors

Example Color Combos

Performance & Innovation
The Grill Dome's Terapex ceramic walls are up to TWICE as thick as the competing brands.  The enamel baking process preserves the integrity of the ceramic walls, unlike the other brands that use a glazing process which can cause cracking and crazing.
With the thickest ceramic walls in the industry, the Grill Dome retains the heat inside the dome up to 525 degrees while the external shell is not dangerous to the touch. This makes it safe for family and friends while around the grill.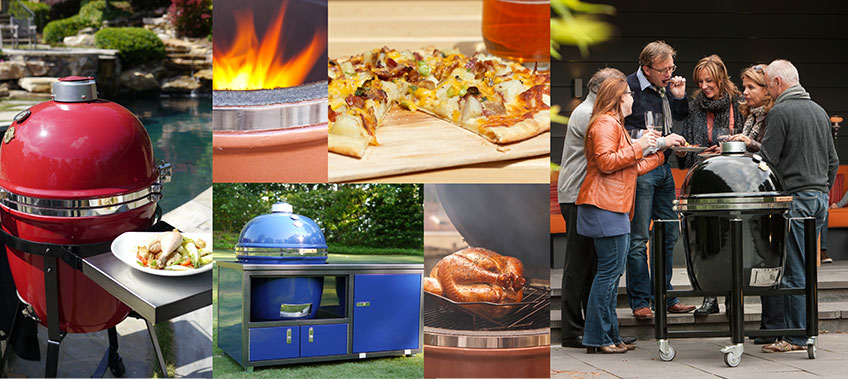 Advantages of Grill Dome
Made in the USA – total quality control from start to finish
3 different sizes (XL, Large, Small)
5 stock colors (red, black, blue, silver, copper)
Custom coloring to match exterior living area, college/professional sport teams, or brand colors
Choose from full body/single color or 2-tone color combinations 
Terapex Ceramics – better, stronger, and twice as thick than competitors' brands making the heating efficiency greater and cool to the touch on the outside for safety
Unrivalled and category exclusive stainless steel hardware
Rust free design
Baked enamel vs. glaze = no cracking or crazing
Versatile set up
Broad range of accessories
Best warranty in the industry…which means peace of mind for buyers!
Charcoal
For best results we recommend using our line of lump charcoal. Our charcoal does not contain additives or fillers creating better taste and producing a "clean" (eco-friendly) burn without releasing chemicals into your food or the environment.