Island Spas
REDEFINING CRAFTSMANSHIP & PERFORMANCE: The Island Spas line provides a series of models that range from 32 to 72 jets with attractive options and features that allow your very own, one-of-a-kind, personalized retreat. From multiple configurations to top rated features, such as the Pillowfall, Dual Foot Blaster, and the Tranquility Fall – we can help you design your ideal island "get-a-way"!
THE MOST CUSTOMIZABLE HOT TUB LINE!

Come in & see us to design your hot tub…
You pick the number of jets and choose from different
seating configurations to fit your needs.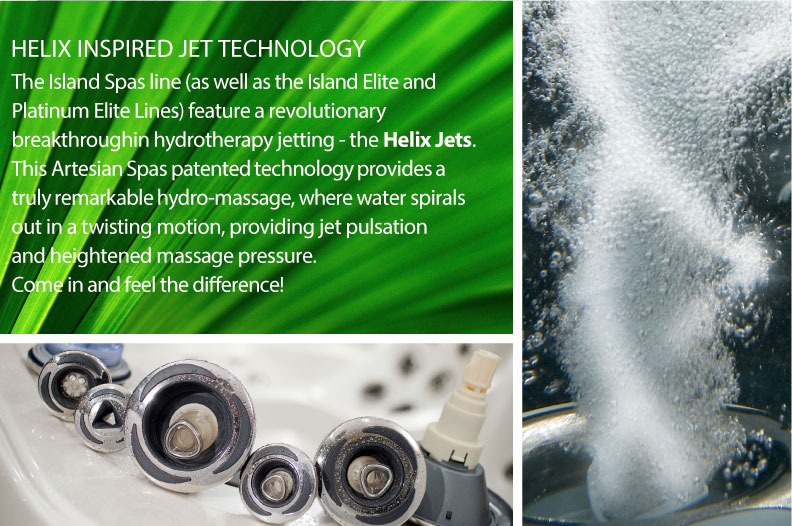 Santa Cruz
84 x 61 x 32 inches
2 Seats with 1 Lounger
33 Jets

Nevis
84 x 78 x 34 inches
5 Seats with 1 Lounger
32-­45 Jets (45 shown)

Antigua
84 x 84 x 36 inches
5 Seats with 1 Lounger
32-­52 Jets (52 shown)

Captiva
84 x 84 x 36 inches
7 Seats
32-­52 Jets (52 shown)

Barbados
91 x 91 x 36 inches
3 Seats with 2 Loungers
61 or 63 Jets (63 shown)

Grand Bahama
91 x 91 x 36 inches
5 Seats with 1 Lounger
32‐62 Jets (62 shown)

Grand Cayman
91 x 91 x 36 inches
7 Seats
32‐62 Jets (62 shown)

Isla Margarita
108 x 91 x 36 inches
8 Seats with 1 Lounger
71 Jets

Bimini
91 x 132 x 36 inches
8 Seats with 2 Loungers
72 Jets